Turning $1 Placemats Into Awesome Works Of Art And Fueling My Spray-paint Addiction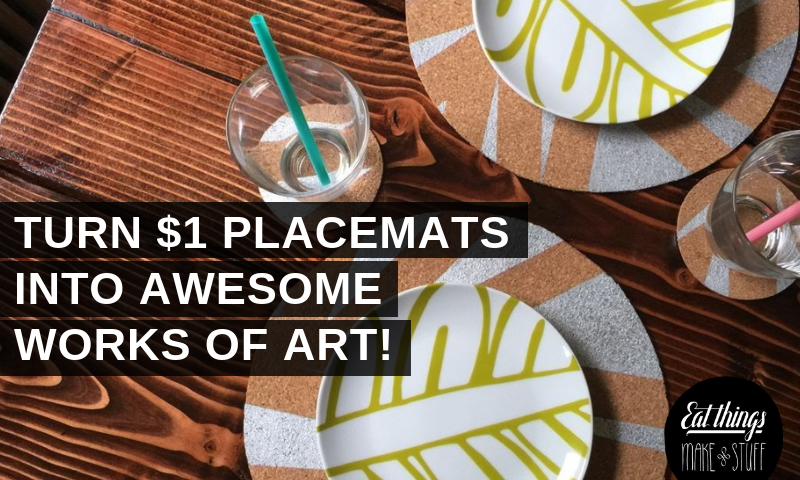 When life throws you lemons, you make lemonade. And when your apartment throws you a ripped place mat, you bust out the spray-paint!
For those of you who follow me on Instagram you may have noticed that I've been putting a lot of work into the dining room lately, starting with my $80 DIY-ning Room Table Since tables need place mats, I grabbed a few simple "AVSKILD" cork mats from IKEA for less than a buck a piece... Peep these bad boys below! Awesome right!!?
All was well in the kingdom of Diningroom-landia, when one fateful afternoon one of the corners of my beloved mats ripped. It was a dark and gloomy day for the citizens of Diningroom-landia to say the least...
Luckily scissors and a little bit of creativity came to the rescue! I traced a circle with a pen and a string old school compass style, and got to cutting. I even had enough room on the corners to make a bunch of coasters! WIN.
Next, I used some blue painter's tape to mask out some crazy patterns. I'm not going to lie, I had WAY too much fun with this part. There's something about taping away with reckless abandon... sigh
Whoever said "Diamonds are a girl's best friend.", did NOT understand the joys of metallic spray paint.... Seriously. Maybe I was feeling a little inspired by Mad Max this weekend... but I didn't even CONSIDER another color. (Now that I think of it though, neon green would be awesome too.. hmmmm. Round 2 anyone??)
Here's what I used. Peeling the tape away felt like Christmas morning. UGH. SO satisfying. 
The paint is so reflective it almost has a foil effect on the dull cork surface. Obi clearly approves. He's got a thing for stripes..
To be honest, the coasters were kind of an afterthought in an effort to avoid waste, but I think I like them better than the full-sized mats! I did NOT expect them to turn out so awesome.
Isn't it great when life throws you lemons!
Thanks again for stopping by! If you have any questions or would like to try this project for yourself, let me know in the comments!
Until next time
@dayleeo
!