ShoeMods Incoming! DIY CP30-ed Chevron Shoes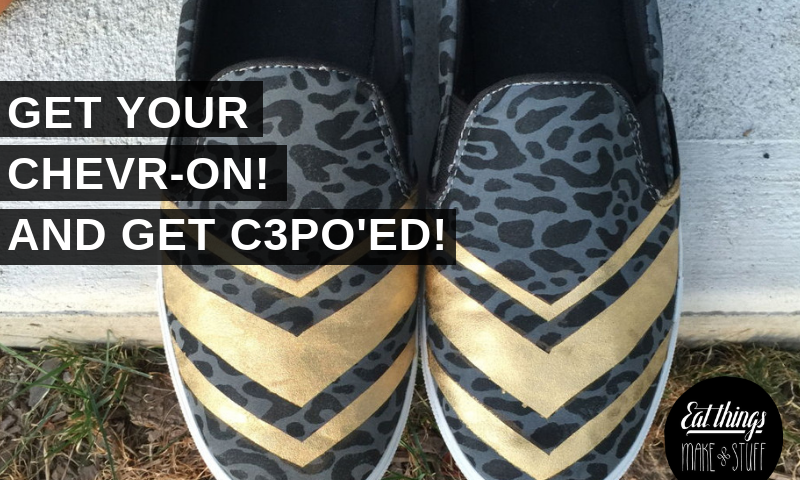 So, last week I bought shoes that I didn't like....
Call it a moment of weakness but when I got these babies home, I was having third fourth and fifth thoughts.
Don't get me wrong, there's nothing intrinsically WRONG with them, they were just missing a little something. I mean you're talking to the girl who's sixth grade nickname was "SHINY SHOES" for wearing THESE….
You can see now why not just any shoe will suffice. I've got a reputation to uphold! So, I assembled my tools of aesthetic manipulation.
TOOOOOOLS ASSEMMMBLE!
Let me say this metallic gold spray paint is one of my favorites. It's super high shine AND has tiny gold flake. Much like a lovable droid I know.. I didn't end up using the paint brush because I had just made some strong rocket fuel level coffee and began to SEVERELY doubt my free handing abilities.
Next step was to stuff. We don't want the tops of these babies caving in on us while we're working. Breathe. Channel your inner turkey day skills and get to it. I used paper shopping bags but anything sturdy will do. HIGHFIVE
Next I did a rough sketch of the chevron pattern I wanted to apply. I figured a gold sharpie would be hidden well after painting. Turns out I was right! #yaydayle Lets talk about Chevron for a moment shall we?
According to archaeologists, the pattern dates back as far as the 1800's. The repeating V pattern was known to reference support beams in ancient structures as a symbol of strength. THANKS ARCHAEOLOGISTS!
I followed my pattern to tape off my stripes with blue painters tape. This part takes a bit of patience if your obsessive like I am, but it's worth it. Make sure all your seams are tightly pressed down with no wrinkles or gaps- OR ELSE.
I may have gone a little tape crazy, but I didn't want any overspray so I made sure to cover all of the rubber edges and the tongue before I C3PO'd the living day light out of these babies. IMG_0056Here's the thing about spray painting. LESS IS MORE. Instead of being heavy handed right out of the gate, you'll get a much better result if you build coverage with light layers. Yes, it's more time consuming. Go pick a few flowers. Do you want awesome shoes or not!?!!?
After the paint is dry to the touch, it's time to peel. Enjoy this. Because for me, it feels like Christmas morning.
Here's the finished product. If you have any little rough edges, you can touch up unruly paint specks with a dark colored sharpie. Or, you can leave it, and call it "RUSTIC".
As luck would have it, I definitely sprained the living daylight out of my ankle mere hours after I finished these shoes.
side note from future dayle, it was DEFINITELY broken. super broken... oh life....
The ER tech gave me an air-cast support to wear for the next few weeks, which I have EVERY INTENTION of spray painting gold as well so at least I can pretend I'm a hobbling android...
Thanks again for stopping by!
If you have any questions, please feel free to post in the comments below I'll be happy to help, (probably from my @dayleeo account)
<3
Dayle