[RECIPE] Tried & True Beet Caramelized Onion & Goat Cheese Tart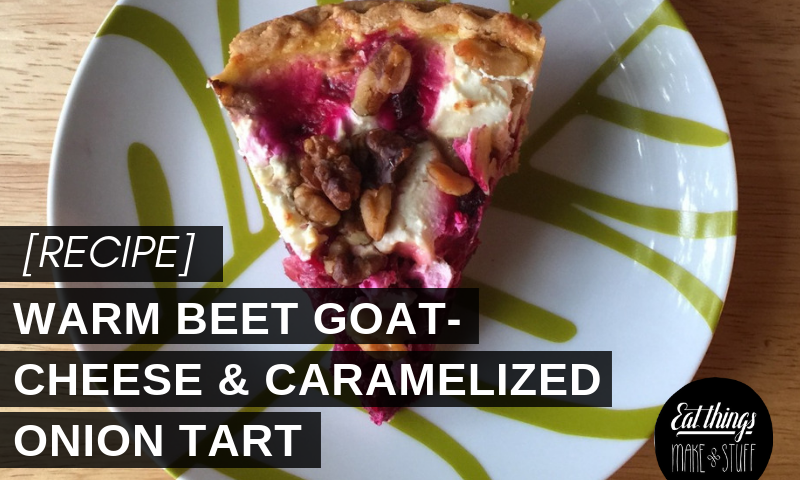 Beets. They've gotten a bad rep. I'm pretty sure I was diametrically opposed to them for most of my life but in my defense, they were usually presented to me boiled, or pickled. Never ROASTED. Imagine for me your favorite food. Got it? Then picture that food BOILED. Not a fan!? I DON'T BLAME YOU.
Boiled Cheeseburger Sliders!? How about a nice boiled slice of Pizza. No? That's what I thought.
I beet-seech you. If you've sworn off beets. PLEASE try them roasted. And if you don't like them roasted try them with goat cheese and walnuts and caramelized onions baked into a pie shell. THEN and only then, are you allowed to tell me "I don't like beets."
INGREDIENTS ASSEMBLE!- There's my unofficial and SUPER unhelpful kitchen assistant Bock. Always judging me with those judging eyes! Nothing I do is ever good enough for you Bock!!!
Place your beets (sans stalks) in an oven safe pan and cover the bottom of the pan with H2O. Then cover with tin foil TIGHTLY and roast at 450 for about 45 minutes, or until they are tender and fork-pierceable. While that's goin' down….
CARAMELIZE ONIONS. If you're like me you do this at least 3-4 times a week. If you're not, here's what you need to know. BUTTER and SALT. Salt draws the moisture out of your onions for maximum sugar caramelization and butter for lubrication and… well because, butter.
Look at these beets! It's like eating a highlighter! If you're not jazzed about that, know that beets are crazy good for you. Beets are high in vitamin C, fiber, and essential minerals like potassium and manganese, which is good for your bones, liver, kidneys, and pancreas and immune system! Their color is basically nature's way of saying HEY! EAT ME!
Chop up your beets into small cubes, but BE CAREFUL that awesome color will die your hands and any porous working surfaces you have so PLASTIC PLASTIC PLASTIC.
Drop your onions and beets into your pie shell. Mine was pre-made but if you feel like being an over-acheiever make one yourself. See if I care!
Then whisk together your eggs and buttermilk and poouuuurrrrr over everything. Dot your goat cheese around the top and sprinkle your walnuts… TO THE OVEN! Bake at 350 for 25-30 min… or until you have… THIS.
Can you even? Because I can't. Golden brown crust, creamy goat cheese and crunchy walnuts. What more could you ask for? hashtag-blessed.
Feel free to be creative with this one, there's hardly any way to screw it up, in this version I used Golden beets (mmm!), a square, glass baking pan, and I omitted the crust to save a few calories. As long as the middle is set, and not jiggly feel free to riff on this however you like.....
I hope you guys try this one and give the humble beet a spot on this week's dinner roster- All we are saying, is give beets a chance...
INGREDIENTS
- 2 to 3 small beets
- salt/pepper
- 1 tablespoon butter or olive oil
- 1 medium onion, chopped
- 1 pie shell (deep dish preferred)
- 3 large eggs
- ¾ cup  buttermilk
- 4 ounces fresh goat cheese
- 1 cup chopped walnuts


INSTRUCTIONS
-  Heat the oven to 450°F. Wash beets. Place the beets in a small ovenproof pan and add water to reach 1/8-inch up the sides. 

- Cover the pan tightly with aluminum foil. Bake until the beets are tender when pierced with a fork, about 45 minutes.

- Heat the butter in a sauté pan over medium heat. Add the onion, season with a little salt, and cook, stirring every few minutes, until the onions are glassy and caramel colored.

- Allow the beets to cool. Rub the skins off of the beets with your fingers, then dice the beets into small cubes.

- Heat the oven to 350°F. Add chopped beets and onions to your pie shell.

- Whisk together the eggs and buttermilk, season with a pinch of salt and pepper, and carefully pour over the beets and onion, letting the mixture seep evenly into the beets. 

- Dot the goat cheese all over the top of the tart. Put the tart on a baking sheet and bake it for 23-30 minutes or until the middle has set. If your crust is getting too dark, wrap the edges in tin foil and continue baking. 

- After you pull from the oven to let it "set" for at least 5 minutes before serving.