[RECIPE] The Good Matcha Morning Pineapple Green Tea Smoothie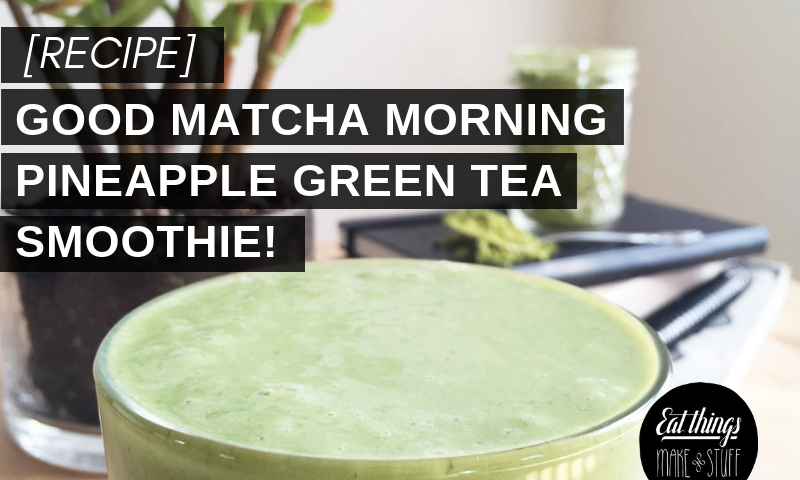 I'm not a breakfast person.
I should rephrase that. I LOVE breakfast food, just at brunch time. Since, however, breakfast IS the most important meal pf the day, this smoothie is my go-to, on-the-go, breakfast. Why you ask? It's loaded with good for you fruits, veggies and protein AND Matcha Powder! Which is the perfect way to start your day energized and alert, especially if coffee first thing in the morning isn't your cup of tea.
I mean it's coffee not tea, so it wouldn't ever be your cup of TEA … MOVING ON!
INGREDIENTS ASSEMBLE!
You'll need: bananas, Yogurt, OJ, Frozen Pineapple (or mango), kale, matcha powder and vanilla extract. Are you excited yet? Well, get excited.
Throw it all in your trusty blend-o-matic machine. I like to start with the liquids first to make the base: OJ, banana, vanilla & yogurt. Then I add my frozen fruit kale and matcha powder, but hey, this is your morning adventure so do whatever you want, I'm no smoothie tyrant!
Pour your smoothie into a tall glass and enjoy with any manner of crazy straw you desire. I like the ones that are also glasses, but again, follow your heart. You'll make the right decision <3 -cue Disney music-
MMMMMMMMMMmmmmmmMMMMmmmMMMMMmmm!!!!
Thanks again for stopping by! Full Recipe Below
<3
@Dayleeo