[RECIPE] Summer Peach, Balsamic and Goat Cheese Grilled Pizza!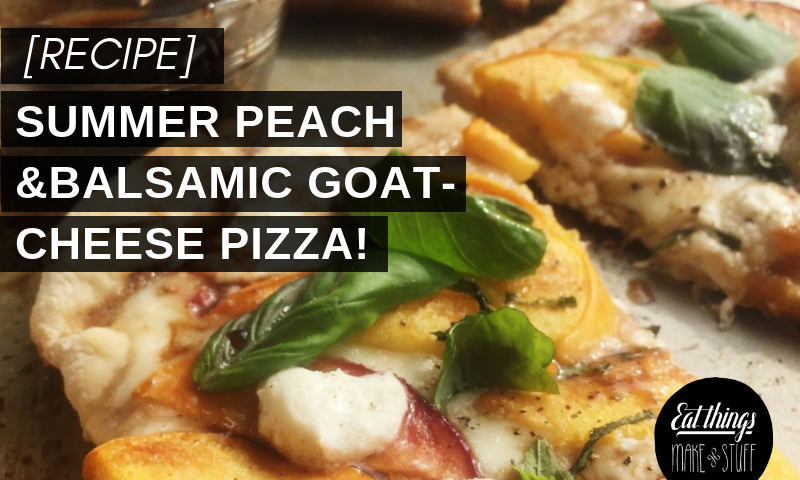 Peaches on pizza!!? Yes. Peaches. Yes on pizza. After all a tomato is a fruit, and we put those on pizzas ALL DAY LONG. Then add cheese, LOTS of cheese , two different kinds, PLUS a sweet tangy sticky balsamic glaze and fresh basil? Ladies and gentlemen of the jury, my defense rests.
Cool shoes right? I made them, well. I painted them. You can check em' out HERE
PEACHES! On Pizza! Ingredients ASSEMBLE! Sliced peaches – duh. balsamic glaze, (- or you can reduce regular balsamic to about half its volume) goat cheese, fresh mozzarella cheese, basil and PIZZA DOUGH.
Feel free to make your own dough (you over achiever you) OR ask your local pizzeria if you can buy some of their dough! They're usually pretty down to make a little extra side cash, and it means ZERO extra work for them!-Roll your dough out to about 1/4 inch thick.
The first time I ever grilled pizza I was TERRIFIED… Visions of dough melting and dripping through the grate, making a huge mess and dashing all of my pizza dreams. They still give me shivers! Thankfully the reality couldn't be further from the truth! Just make sure your grill is CRANKED and you've oiled your cooking surface and you'll be on your way to delicioustown in no time.
After you've given the first side a little toast, (about 3-4 minutes) flip, brush a little olive oil on and add your toppings. I HIGHLY suggest you prep all the toppings before hand because at 500+ deg, things turn from golden delicious to BURNT BY THE FIRES OF MORDOR. REAL QUICK. Remember what mom used to say, "un-prepped peaches ruin the pizza". Wait did she really say that!!?
Keep the lid to the grill closed as much as possible! NO PEEKING! We don't want that precious heat escaping like unity symbol doves at a wedding. The cooking time here is pretty much up to you, we're looking for 1. A Cooked Crust, and 2. Melted Cheese…. mmmmmm. After those two directives are achieved you're pretty much good to go
Finish with fresh cracked pepper, sea salt, another drizzle of balsamic, and fresh basil. ALSO. You're about to see these guys disappear right before your eyes, so take your Instagram pics quickly
TORTURE… ABSOLUTE TORTURE. A photo shoot was NOT what I wanted to be doing in this moment…. IMG_1845It's like they say in show business… The show's not over until you take all the pictures of the peach pizza for your blog…
Thank you again for spending a little time with me in my nerdy little corner of the internet! I really hope you guys try this one out AND let me know what you think! [FULL RECIPE BELOW!]
See you next time! <3 @Dayleeo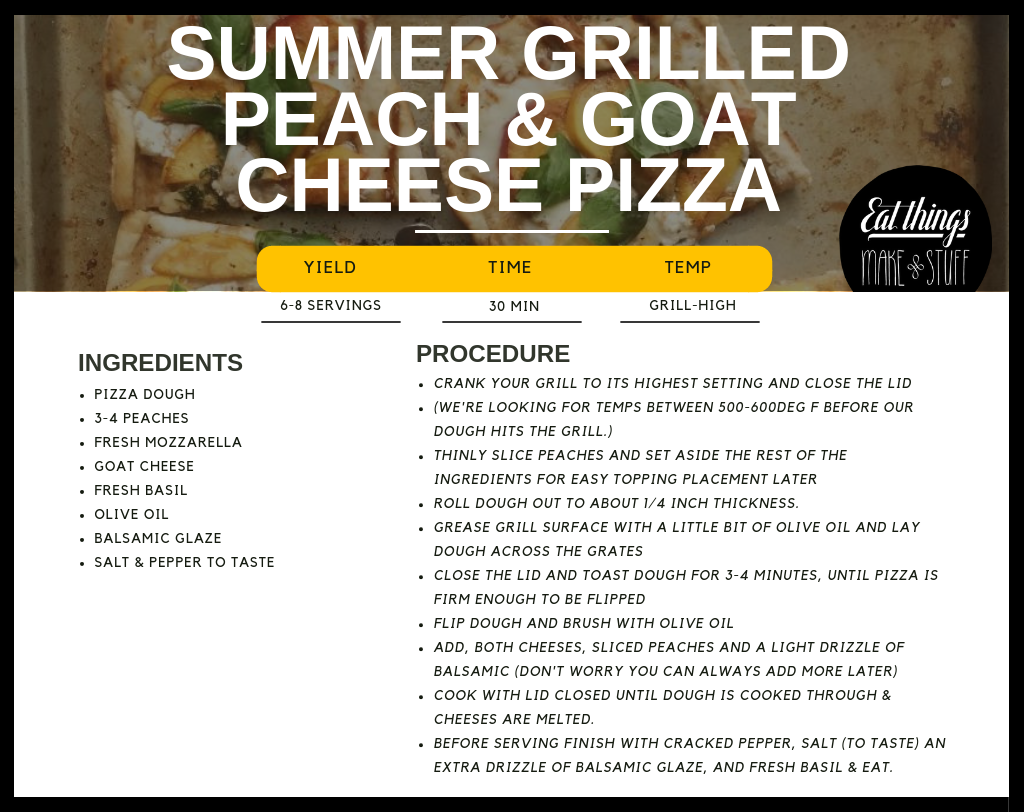 INGREDIENTS
- Pizza Dough
- 3-4 Peaches
- Fresh Mozzarella
- Goat Cheese
- Fresh Basil
- Olive Oil
- Balsamic Glaze
- Salt & Pepper to taste

INSTRUCTIONS
- Crank your grill to its highest setting and close the lid 
   we're looking for temps between 500-600deg F before our dough hits the grill.
- Thinly slice peaches and set aside the rest of the ingredients for easy topping placement later
- Roll dough out to about 1/4 inch thickness.
-  Grease grill surface with a little bit of olive oil and lay dough across the grates
- Close the lid and toast pizza for 3-4 minutes, until pizza is firm enough to be flipped
- Flip dough and brush with olive oil
- Add, both cheeses, sliced peaches and a light drizzle of balsamic (don't worry you can always add more later)
- Cook with lid closed until dough is cooked through and cheeses are melted.
- Before serving finish with cracked pepper, salt (to taste) an extra drizzle of balsamic glaze, and fresh basil.
- EAT.

NOTES:
If you'd like to make your own balsamic glaze from scratch, 
boil balsamic vinegar in a medium sauce pan until reduced by half and a syrupy consistency is achieved.