[RECIPE] My ALL TIME FAVORITE Apple Pie | Be Warned you WILL win Thanksgiving with this one..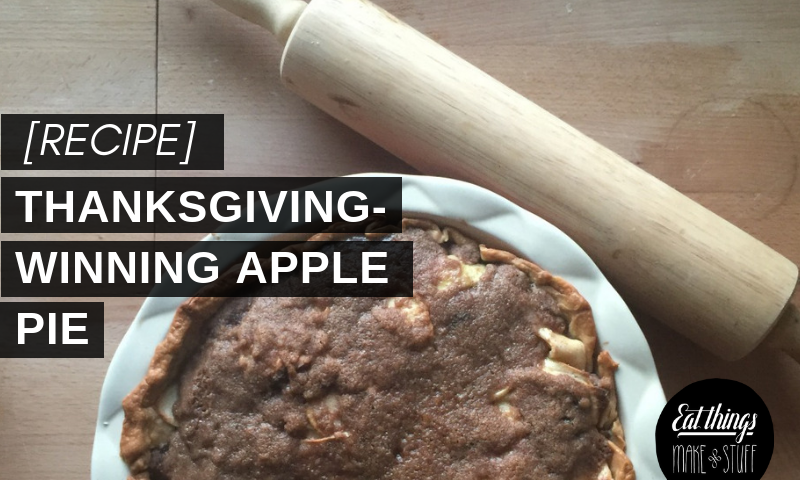 Yes I said, WIN.
Don't be a spectator this year… get in there, get your hands dirty, and lay down some serious Thankfulness flavored smack down with this recipe. Sure, Thanksgiving is about being with your loved ones, enjoying time together, and reflecting on the things you've been blessed with. But why can't there be a winner? -- I DARE YOU to bring this pie to your Thanksgiving festivities. It's got a crispy buttery streusel topping and absolutely zero gelatinous apple pie goo that I refer to as apple pie snot. NO THANK YOU.
Be warned…
with great pie comes great responsibility, so you're going to want to bring a box of tissues as well. There will be tears of joy...
Lets get started!
Ingredients assemble!!!! -Don't worry, there's a full list of everything you'll need in the recipe at the end of this post, for now just enjoy the process…
After the apples were peeled, I used a mandolin to slice them. Ol' Mandy and I have had our differences in the past but as long as you use the finger guard you should emerge relatively unscathed.
Next beat together the sour cream, egg, sugar, salt, flour, and vanilla. And mix in your apples making sure they're all coated. Now that I think about it, I don't believe I've ever adhered to any recipe's measurement of vanilla so if you feel like you need a little extra, go for it! Heck, throw some cinnamon in there too, you rebel you!
Dump into pie shell and bake at 400 deg. for 20 minutes. You will open the oven to reveal the beauty pictured above. Resist the urge to tear into this bad boy as-is. Your patience will be rewarded.
You're pretty smart so I KNOW you read ALL of the instructions BEFORE you started. By the time your first timer went off you had a beautiful crumbly streusel ready to go, Right? Look at how prepared you are! Sprinkle generously and back to the oven it goes for another 25 minutes. NOTE: If your crust is already golden brown after the first round, I highly advise you cover it with tin foil for round 2 or that beautiful sun tan will turn into a black ring of death kissed by the fires of Mordor. DON'T DO IT.
25 tortuously long minutes later, you open the oven to reveal something that looks like THIS. Your house smells heavenly, your family stands out of respect and reverence, a rose is thrown, you catch it in your teeth, the crowd goes wild… SUCCESS!
Then everyone spends the next 20 minutes taking pictures for Instagram.
And THAT my friends, is how you win Thanksgiving. As always, If you have any questions or thoughts about this recipe I'd love to hear, so comment below! Here's everything you need to know…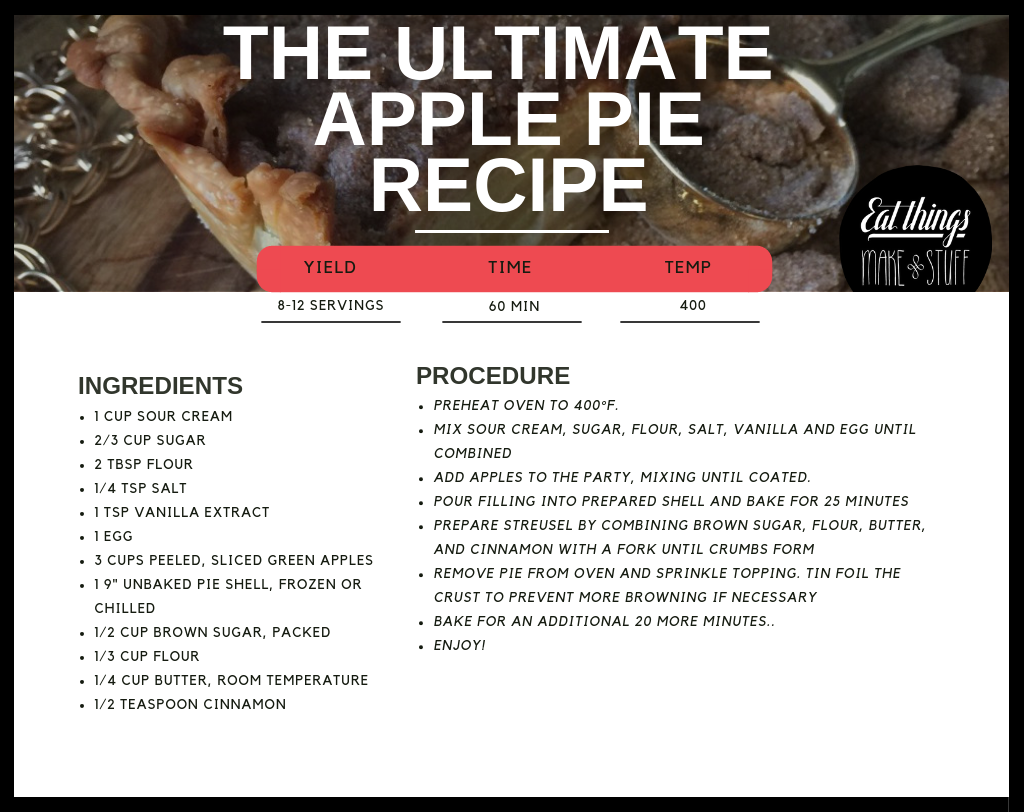 INGREDIENTS
- 1 cup sour cream
- 2/3 cup sugar
- 2 tbsp flour
- 1/4 tsp salt
- 1 tsp vanilla extract
- 1 egg
- 3 cups peeled, sliced green apples
- 1 9" unbaked pie shell, frozen or chilled
- 1/2 cup brown sugar, packed
- 1/3 cup flour
- 1/4 cup butter, room temperature
 1/2 teaspoon cinnamon

INSTRUCTIONS
- Preheat oven to 400°F.
- Mix sour cream, sugar, flour, salt, vanilla and egg until combined
- Add apples to the party, mixing until coated.
- Pour filling into prepared shell and bake for 25 minutes
- Prepare streusel by combining brown sugar, flour, butter, and cinnamon with a fork until crumbs form
- Remove pie from oven and sprinkle topping. Tin foil the crust to prevent more browning if necessary
- Bake for an additional 20 more minutes.

ENJOY!

See you next time!
<3 Dayleeo