[RECIPE] Matcha Green Tea Dino-Shortbread Cookies!
Ok, Here's what you need to know about these delicious green tea cookies....
They are DELICIOUS.
They are shaped like Dinosaurs.
What's not to like right?
Enjoy! P.S If you're looking for these dino cookie cutters you can get them here. (No it's not an affiliate link, and no I don't make any money on it.)
INGREDIENTS ASSEMBLE!: One of the reasons this recipe is so awesome is because of its simplicity. 6 ingredients!? Yes Please!
After the ingredients are combined they're going to be a little crumbly, like wet sand. Not to fear! There's enough butter to make everything stick once you form a compressed ball.
Mold your dough ball into a dough disc for even chilling, wrap with plastic and let your little dough baby chill out for about a half hour. In the mean time, DANCE PARTY. Obviously.
Next roll your dough to about a half-inch thickness. If you're using any kind of imprinting device, I find it's easiest to press the design down before you pop your shapes out of the cutters. Feel free to reroll the scraps out for maximum dino shape-age.
If you've completed all previous steps successfully, you should have something that looks like this! Congratulations! You'll be enjoying prehistoric deliciousness in no time!
To the oven! Bake at 350(f) for 18-20 minutes, or until you start to see the edges start to turn golden brown and delicious… mmmmmmmmmm.
Transfer to a plate or rack to cool and enjoy with a tall glass of milk.
IMPORTANT: As with most shaped delicacies these cookies taste WAY better if you bite the heads off first. It's like a law of nature or something. Don't ask me why, just do it!
Enjoy.
OPTIONAL:
Act out epic battle scenes in which the losing dinosaur gets eaten.
I'd be mega stoked if you tried this recipe out and let me know what you thought! (It's my way of indirectly feeding the internet which my Italian impulses dictate I must do.)
Thanks for stopping by!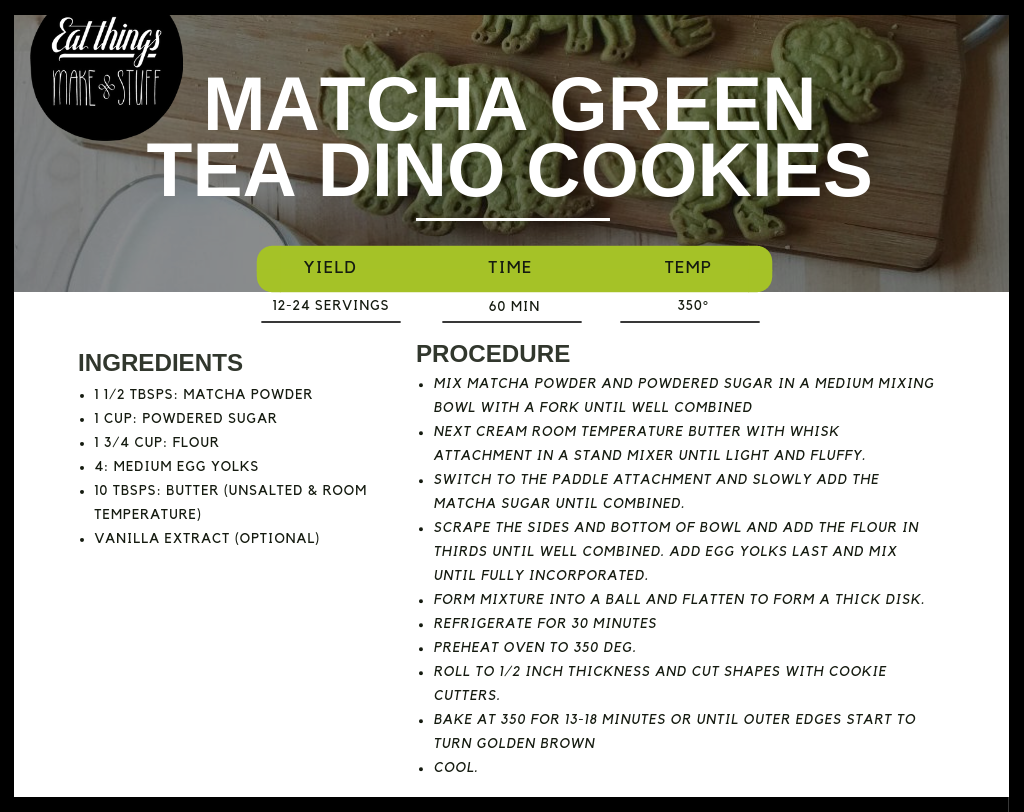 INGREDIENTS
1 cup: Powdered Sugar
1 1/2 tbsps: Matcha Powder
1 3/4 cup: Flour
4: Medium Egg Yolks
10 tbsps: Butter (unsalted & room temperature)
1Tsp: Vanilla Extract (optional)

INSTRUCTIONS
-Mix matcha powder and powdered sugar in a medium mixing bowl with a fork until well combined
-Next cream room temperature butter with whisk attachment in a stand mixer until light and fluffy.
-Switch to the paddle attachment and slowly add the matcha sugar until combined.
-Scrape the sides and bottom of bowl and add the flour in thirds until well combined. Add egg yolks last and mix until fully incorporated.
-Form mixture into a ball and flatten to form a thick disk.
-Refrigerate for 30 minutes
-Preheat oven to 350 deg.
-Roll to 1/2 inch thickness and cut shapes with cookie cutters.
-Bake at 350 for 13-18 minutes or until outer edges start to turn golden brown

-Cool & Enjoy