Make Iced Green Tea In Seconds Flat With Matcha Ice Cubes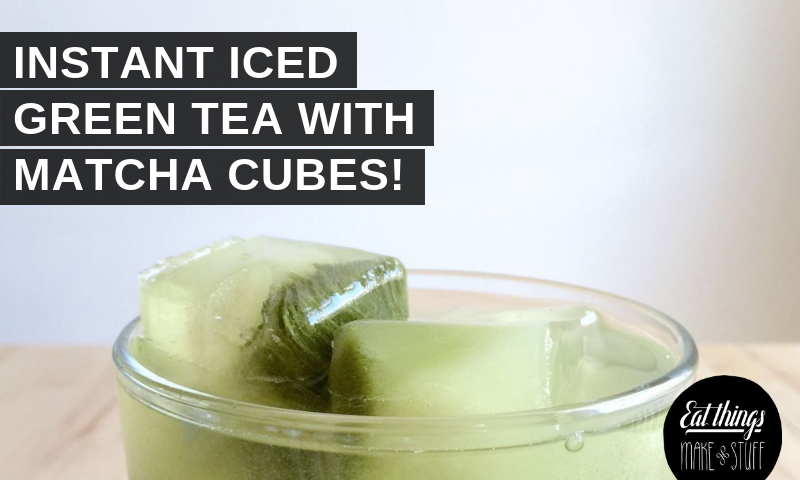 Oh hey, happy MatchaMadness guys! Oh you didn't know it's a national holiday? Well it is. At least here it is
So YES I'm about to give you a recipe for ice. But not just any ice! This is green tea infused SUPER ICE! Keep a tray of GreenTea Cubes around especially in the warmer months, to instantly turn a glass of water into iced green tea or throw a few cubes in your morning smoothie!
Let's do this!
Matcha powder dissolves much more easily in hot water, which will ultimately raise the amount of time you wait for your finished ice cubes, BUT it will be worth it, I promise. Also, it gives you time to have a dance party… so, YOU'RE WELCOME.
I use 1/2 TBSP of matcha for every cup of water I'm turning into ice. Make sure you whisk your face off to avoid any lumps or bumps. Then pick your face up off the floor and throw your ice tray into the freezer for 2+ hours or over night.
If you have novelty rap game ice molds, this is a good time to bust those out.
Matcha Rules Everything Around Me. M.R.E.A.M But the BEST…. is if you own….
R2D2 ICE MOLDS! I nerded out pretty hard when I saw how these came out… LOOK AT THE BABY R2's!!! EEK!!
Don't you judge me!!!- Just make some darn ice cubes. You'll thank me later!
Recipe below! See you next time!
<3 Dayleeo
Ingredients
Warm Water: 1 Cup
Matcha Powder: 1/2 tbsp
Instructions
Wisk matcha powder into warm water and pour into ice trays.
Freeze for 2+ hours or overnight.
Use1-2 cubes per glass of water depending on your tastes or add to smoothies!