Make a Moisturizing, DETOX-TASTIC Green Tea Face Mask! | (Vegan-friendly version included)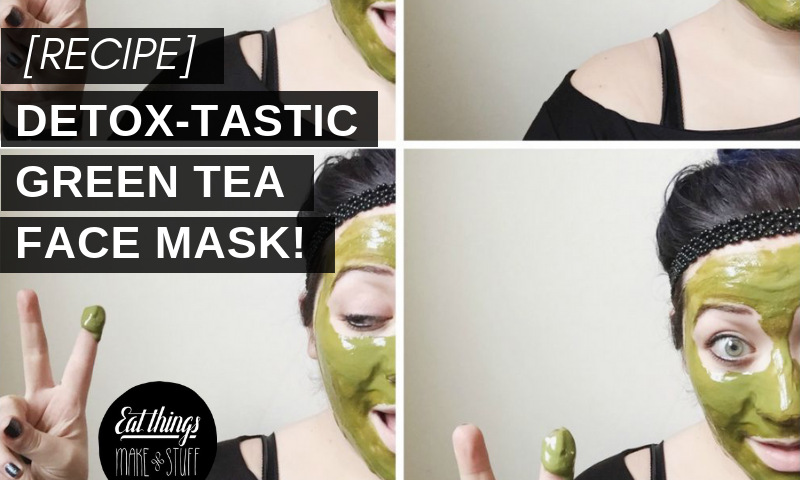 We're back with more Matcha Madness!
Today we're talking face to face. Well, maybe mask to face is more accurate. There are a few reasons I whip this face mask up at least once a week….
MATCHA:
It's full of ANTIOXIDENTS & ECGC- Look it up, your face LOVES it. There are even some studies that claim the ECGC in green tea helps fight cancer cells from forming. It's pretty rad stuff.
HONEY:
You guessed it, more antioxidants! PLUS it's a natural and powerful antibacterial and brekout remedy. THANKS BEES!
GREEK YOGURT:
It's got calcium and lactic acid to soothe dry irritated skin AND zinc which controls oils, along with a ton of vitamins.
Basically what I'm telling you is that this mask is like slapping a bunch of Grade A, all-natural SCIENCE on your face. It's awesome.
If you prefer, to keep it Vegan, you can also use mashed Strawberries in this recipe instead of the yogurt. They've got some awesome benefits as well.
Here's the breakdown..
Ingredients
2 Parts Greek Yogurt
2 Parts Honey
1 Part Matcha Powder
Instructions
Combine all ingredients and apply to face for about 20 minutes or until mask starts to tighten.
Rinse with warm water.
Have an awesome face day!
Notes
Feel free to substitute the yogurt with 2 or 3 ripe strawberries.
Be careful of your clothes!
Any leftovers can be refrigerated for up to a week in a sealed container.
I really hope u give this one a try, it does wonders to soothe angry winter skin. Also, you get to look like kermit, the frog for a bit, soooo win win!
Thanks for stopping by!
<3 @dayleeo