Learn How to Make The ULTIMATE Matcha Green Tea Latte | VEGAN FRIENDLY!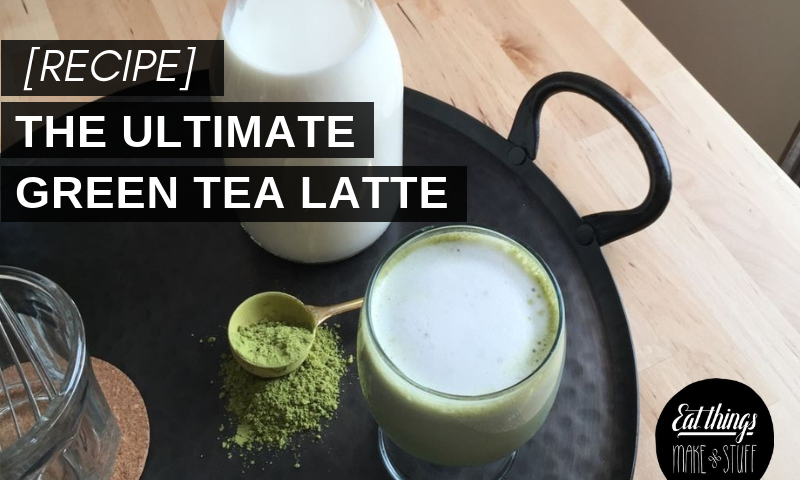 Welcome to Matcha Madness! Before we started let's get a few things out-of-the-way…
FIRST: What is matcha powder?
Basically, they're green tea leaves that have been ground into a fine powder.
Why is it awesome?
Well, It's CRAZY good for you. So good, even Kale is jealous. It's loaded with antioxidants, vitamins and minerals AND it's an awesome caffeine delivery system, sans jitters!
What more could you want!
And so, without further a due, here's my recipe for the MOST SUPREMELY ULTIMATE GREEN TEA LATTE EVER. Ready? LETS GO!
INGREDIENTS ASSEMBLE! Matcha powder (I get mine from Amazon) Milk, or any milk substitute if that's your thing (I drink like 9 types of milk so I'm talking to myself here too) boiling water and any flavorings or sweeteners you like… but more on that later. The house plant in the photo is optional, but preferred for morale support.
Grab a heat safe vessel and mix 1 TBSP of matcha powder with 2 oz of boiling, high quality H2O. Then wisk…. like the WORLD DEPENDED ON IT. We don't want any lumps bumps or clumps in our silky smooth latte.
This would be where you add any of your extras like simple syrup, vanilla extract or agave syrup. Also, check out that action shot thoooo!!!
Now steam your milk using whichever method you prefer. If you don't have a device specifically allocated for the steaming of milks, you can bring a small sauce pan of milk to a very gentle simmer while whisking to your desired foamyness. Then pour milk over your matcha-mix and you're good to go!
Please enjoy the heck out of this delicious beverage and check back all week for more matcha marvelousness.
Thanks again for stopping by! - Full recipe below!
<3 @Dayleeo